The team
Were are an experienced team of individuals, with a combined total of more than 100 years of direct experience of working in health and social care, at both board and clinical level.
Our approaches are built on in-depth experience of how it feels to be on the inside, so we examine obstacles and pose potential solutions whilst understanding the need for careful handling. While our services are not unique, we couple these with training, a personalised approach and the experience and application of knowledge to real-life situations, bringing increased impact and success to individuals and organisations across the country.
Kirstie Stott – Managing Director
Kirstie Stott is an Executive Coach and NLP practitioner with a whole host of leadership experiences underpinning her practice. She is a successful entrepreneur who worked in the NHS for 18 years prior to establishing 'The Inspiring Leaders Network'. Kirstie originally trained as an RGN in 1998 and worked in a clinical capacity for 14 years, working mainly in emergency and unscheduled care.  She is an alumni of the NHS GMTS and has worked across the NHS at local regional and national level positions.
In 2014 Kirstie became Director of The Inspiring Leaders Network Ltd, offering programmes of inclusive leadership development, and this is where her passion lies, she thrives on seeing others develop and reach their full potential.
In 2016 Kirstie founded 'Equilibrium' an organisation, which support's organisations and individuals to realise the benefits of working flexibly. The aim of Equilibrium is to build a better future for both employees and organisations across the Public Sector to enhance quality, efficiency, Health and Wellbeing and innovation, which lead to better service user outcomes.
Kirstie has written many publications about her passion, which is inclusion, diversity and equality in leadership and has been published in the HSJ, Nursing Times, NHS England and Guardian Healthcare.  She also wrote her Masters thesis on Women Leaders in the NHS. Kirstie was recognised as one of the HSJ Rising Stars 2015.
Kirstie has been described by others as an authentic and value driven , who has the ability to build rapport, be supportive and make her clients feel comfortable, when exploring what is often enviably uncomfortable. Yet she can still be direct and challenging when necessary to stretch her clients thinking and personal awareness. Her courageous conversations and tenacity can only encourage individual growth, self-awareness, personal insights and lead to people being more comfortable in testing a range of leadership behaviours.
Kirstie looks forward to working with you and supporting you in your growth and development.
Dean Royles – Director
Dean Royles has been a highly regarded, leading figure in Human Resources (HR) within the NHS for nearly two decades and is a Director at ILN. As a former Chief Executive of NHS Employers, Dean joined Leeds Teaching Hospitals in 2014 as Executive Director of HR and OD. Leeds is one of the largest Trusts in the country employing over 17,500 staff. Other notable positions have included Director of Workforce and Education at NHS North West and Deputy Director of Workforce for the NHS at the Department of Health.
He started his career working in a local authority.
Dean has an MSc in Human Resources and is a member of Sheffield Business School's Advisory Board as well as a visiting fellow at Newcastle Business School. He is former national Chair of the Board of the Chartered Institute of Personnel and Development (CIPD) and was awarded Companionship of the CIPD in 2015. He has an Honorary Doctorate from the University of Bradford for his contribution to health services management.
He is a regular conference speaker, published in a number of journals, on the editorial board of HRMJ and the International Journal of Human Resources Development, a social media advocate and provides expert opinion in the national media. His easy style, expertise and high energy approach to HR ensured he was voted UK's Most Influential HR Practitioner three years running. His book with Oxford University Press on Human Resource Management was published in February 2018.
Nicky Ingham BA (Hons) FCIPD MSc HR Leadership NLP Practitioner – Programme Delivery Partner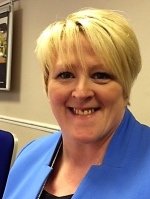 Nicky is the Executive Director for the Healthcare People Management Association (HPMA) and Chief Executive of her own successful HR and OD Consultancy.
Nicky has 24 years' experience working with organisations in a variety of workforce roles. With over 15 years as Executive Director of Workforce and OD, Nicky has significant experience in leading organisational transformation, change programmes, developing organisational models, organisational turnaround, development of strategy and underpinning strategic engagement and communications strategies.
Nicky is adept at providing constructive challenge and being a critical friend to support transition, both on an individual and team level. Recent experience includes working with ambiguity across organisational boundaries in supporting system change across the Fylde Coast Local Delivery Plan with commissioners and local authorities.
A focused values-driven individual who can quickly grasp the strategic, operational and organisational issues involved in an organisation. A self-starter with excellent interpersonal skills, a good communicator who can establish credibility at all levels of an organisation. Highly motivated and results focused. With strong leadership skills and experience, Nicky is agile and passionate about supporting others to realise their full potential and inspire change in themselves and for themselves.
Leading and implementing cultural change programmes, Nicky provides a holistic approach to transformation using her unique style and partnership approach to best effect ensuring ownership at all levels. An experienced coach and mentor to a broad range of stakeholders from board level to grassroots staff, Nicky's approach is refreshing, vibrant and forward thinking. An accomplished Chair working nationally, regionally and locally to effect system wide change. Previous HPMA HRD of the Year 2010.
Christine Bain – Programme Delivery Partner
Chris joined the NHS in 1980 and worked in the NHS for nearly 35 years, in a variety of senior roles across many different sectors in South and West Yorkshire. Starting her career in the NHS in Sheffield and Barnsley, Chris then joined Marks & Spencer PLC in 1989 for 2 years. In 1992 she returned to the NHS in Wakefield before taking a secondment in 2003 working with Professor Beverly Alimo-Metcalfe at the University of Leeds, during which she developed her personal interest in Leadership and Organisational Development.
In 2004 Chris was appointed as Chief Executive of Doncaster East PCT and in March 2009 Chris took up post as Chief Executive, Rotherham Doncaster and South Humber NHS FT. She has also been a Governor at Rotherham College, a non-executive director of Derbyshire Health United Ltd and past Chair of West Wakefield GP Federation. In May 2015, Chris left her full time employment in the NHS to work as an independent consultant, executive coach and mentor and operates under the auspices of Bain Associates Ltd.
Kimberley Pledger – Programme Manager
Kimberley is supporting the expansion and growth of the Shadow Board Programme and ensures the smooth running and high quality of programmes and work delivered by the ILN. She has a wealth of experience in the world of leadership development and is also an Executive Coach.