Shadow Board
What is the Shadow Board Programme?
The Shadow Board Programme is a leadership development programme for aspirant board members and senior management in health and social care, but it's also much more than that, offering both experiential and modular learning which equips participants with the right level of knowledge and understanding of working at board level.
The programme delivers two core outcomes:
Develops and establishes a Shadow Board with organisations which meets separately from their Executive Board, giving participants practical skills-based development.
Gives organisations the opportunity to succession plan and to increase diversity of thought at the senior level of an organisation, offering the opportunity to become more representative of the communities they serve. This will also provide assurance, corporate governance and support talent management strategies.
The programme and The Inspiring Leaders Network were finalists for the Northern Power Women Awards 2019 for the programme in the Innovation category which has been great recognition of the work we do to support diverse talent in the healthcare sector.
Read what our clients think about the Shadow Board programme on our Testimonials page.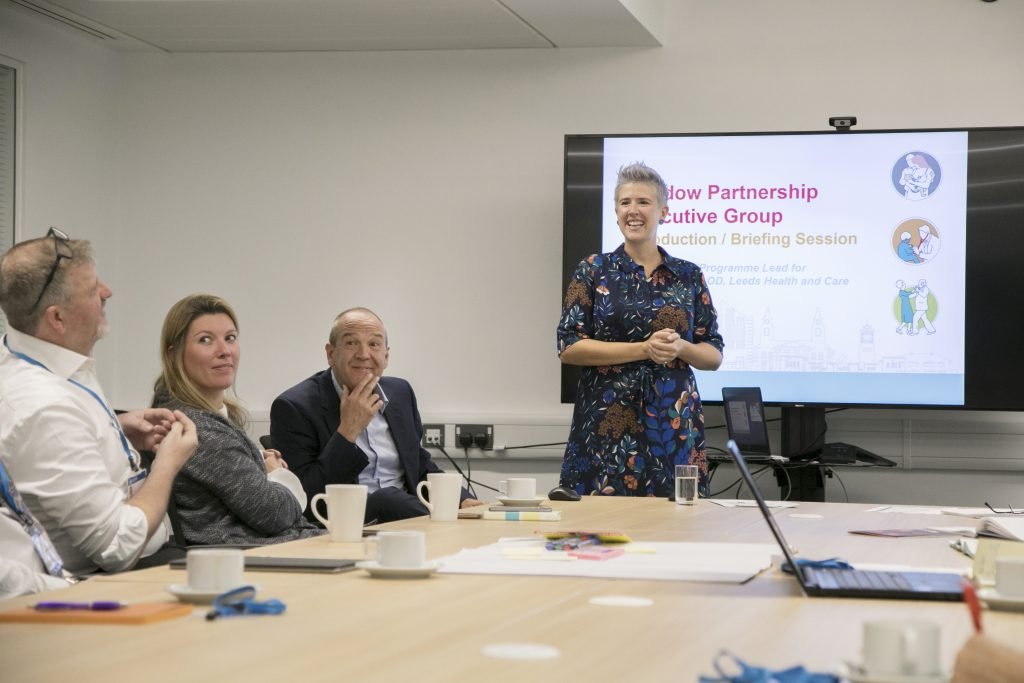 What is the benefit for individuals?
Setting up a Shadow Board enables participants to implement and embed their learning in a safe space and really gain experience of what it's like to be a board member. This is not role play though! This is experiential learning at its best, bringing to life not only the taught content but also understanding the nuances and power and influence and dynamics of being an Executive Director.
It supports the development of aspirant directors to enable them to understand and appreciate the difference and transitions from a functional specialist to that of an Executive Board Director. It also helps existing teams appreciate the roles and responsibilities of directors, enhancing their understanding and making them more effective senior team members, better able to support directors.
What is the benefit for organisations?
Over recent years' evidence has suggested that only a minority of Trust Board Directors have had any formal development in understanding the roles, responsibilities and complexities of being a Director in an organisation. Having spoken with many NHS Executives this is something that would have been of great value to them.
The Shadow Board Programme enables Executives to invest into their Non-Executive Directors (NED) who may be an aspirant Chair, and offer an exciting development opportunity to gain experience and skills through chairing the Shadow Board Programme. Not only does this support the development of the individual NED but also offers alignment and synergy to both boards, by enabling cohesion and transfer of thoughts. The Shadow Board Programme equips participants with the right skills through the foundation programme, and we also support organisations to establish the Shadow Board through working with key stakeholders, Executive Teams and Non-Executive Directors including the Chair.
There is also significant benefit to the organisation as the Programme provides a structure for participants to share their insights with board members on the challenges and opportunities facing organisations.
Diversity of thought, and its importance
The Shadow Board Programme supports organisations to achieve the ambitions set out in the 'Developing People – Improving Care Framework' which states that:
"High-quality health and care systems are able to attract, identify and develop people with the potential for good leadership and to opportunities as they arise, fitting the right talent to the operational needs. Systems for matching people to roles where they can have the most impact are essential, both within and across the health and care organisations. Such systems rest on strategic planning to make sure the supply of appropriately developed people matches trends in demand for senior leaders and other critical roles cross the system. The ambition is to create an inclusive system of managed talent pipelines which can effectively and cost-effectively identify develop, and supply suitable candidates for vacant roles as well as support potential leaders as their careers progress and when they are in senior posts. Such a system will increase the diversity of background and skillsets among candidates for each role; make it easier for people".
The Shadow Board Programme offers the opportunity to develop talent and to really embrace the diversity of staff enabling people to reach their potential. Diversity and inclusion is fundamental to the sustainability, growth, and improvement of organisations.
Diverse thinking embraces the difference each person offers, through their own views of the world, their upbringing, socio-demographics and life experiences. It allows for new and different thinking and voices, and helps support the move away from groupthink, offering fresh perspectives and ideas.
Through facilitating a diverse Shadow Board, organisations can really harness the knowledge and experience of their people to deliver better outcomes for the people who use their services.
How is the Shadow Board programme delivered?
The Shadow Board Programme (Foundation) consists of 3 full-day modules, delivered one a month for three consecutive months. Following module 1, one of our experienced tutors will support the group to establish the Shadow Board, supporting the development of terms of reference and expectations. Our team will also work behind the scenes with the executive sponsor/lead and the trust chair to identify who will Chair the Shadow Board and supply secretariat provision.
In addition to the three core modules, senior managers are encouraged to undertake self- directed learning, attend and observe organisation committee meetings and learn from each other.
The Shadow Boards support participants by offering feedback, support and challenge, and align the modular content to the experiential aspects.
The programme objectives include:
Identification of the top end of the talent pool
Providing an insight into executive responsibilities
Developing strategic thinking capability
Enabling shadow board development
Offering personal development support to embed learning
Identification of future potential leaders
Delivering future value to the NHS.
Delivery model
Initially, we work in collaboration with the organisation to successfully identify individuals suitable for the programme. We ensure that participants are equipped to begin by having a 1:1 meeting with them all before starting to benchmark their experience and knowledge to date. We also hold a briefing session with participants and the Chair/NED to enable people to meet and to brief them on expectations and answer any questions they may have.
We also ensure that each Shadow Board is bespoke to the organisation and we do this by the utilisation of key documents such as Board Assurance Frameworks and Strategies, to enable the delivery to be meaningful to participants.
The Shadow Board itself meets separately from the Executive Board and this can be either before or after. We suggest that the Executive Board Papers are shared with the Shadow Board to bring realism and to also add value to the organisation. Participants are challenged through not staying within their functional role, meaning that a Deputy Director of Finance may present the Nursing and Quality paper.
In addition, we work with participants to challenge them to gain experience through other areas such as shadowing committees and coaching or mentoring. This could be internally such as through Non-Executive Directors or Executives, or could be through our reverse mentoring programme.
Who do we work with?
We are the only organisation providing the Shadow Board Programme within healthcare, with a highly successful recognised programme. We are working with multiple NHS organisations and place-based systems and Integrated Care Systems helping and supporting them to develop their leaders and add value through a Shadow Board Programme.
These organisations include:
North Lincolnshire and Goole – 2 cohorts
York Teaching
Harrogate District
South West Yorkshire Partnership FT
Leeds Teaching Hospital
Sheffield Children's Hospital
Rotherham District FT
Humber Teaching Hospitals
Locala CiC
Northern Care Alliance
Lancashire Care Trust
County Durham and Darlington
Tees, Esk and Wear Valleys
East Lancashire Care Trust
Bolton NHS FT
Doncaster FT
Sheffield Health and Social Care
Leeds Community Trust
Southport and Ormskirk
Leeds and York Partnership
Bradford Care Trust
North West Ambulance Service
---
Read what our clients think about the Shadow Board programme on our Testimonials page, or learn more by watching the videos below.
An introduction to the Shadow Board programme
The West Yorkshire & Harrogate STP Shadow Senior Leadership Executive
South West Yorkshire Partnership Foundation Trust Case Study
Leeds Teaching Hospital Case Study
Doncaster and Bassetlaw Teaching Hospitals NHS Foundation Trust case study